Hotel service introduction
Navy Hotel Group is a chain of 3-stars and up hotels with various business types such as seaside hotel, airport hotel and city hotel. The Hotels are located in major tourist destinations such as Cam Ranh, Da Nang, Da Lat and Nha Trang. We always exceed our customer's expectations at completive prices.
Navy Hotel Group uses the same brand name for all hotels and resorts with the similar Navy Hotel logo adding a local suffix. Modern, formal and high-quality services at competitive prices are the features of Navy. The hotel chain's service style is based on thoughtful, methodical, enthusiastic and careful criteria. We always want to provide a sense of convenient, comfort and safety to our customers as home sweet home.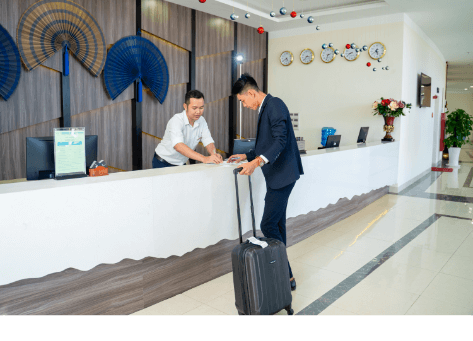 Navy Hotel Da Lat has design inspired from European architecture style. Navy Hotel Da Lat is a luxurious, spacious and sophisticated hotel. The hotel has a total area of more than 5000 m2 with 3 blocks of 54 rooms which is located on a romantic hill. Restaurant capacity is up to 250 guests, Cafeteria & Bar, multifunctional meeting rooms, and other utility areas such as Sauna, Karaoke, Tennis court, Indoor sports area with table tennis, billiards, … All are ready to serve all our beloved guests.